"THE PUPPETS ARE EXQUISITE. EVERYTHING ABOUT THEM – FROM THE BEWILDERED LOOK ON THEIR FACES TO THEIR STOOPED, FATIGUED POSTURE, TO THEIR HAND GESTURES, TO THEIR COSTUMES – SEEMS LIFELIKE AND HEARTBREAKING." – CALGARY HERALD
Check out our trailers for "How I Became Invisible", "Climbing Man", "Puppet Prototypes" and a full length video of "The Unremarkable Disappearance of Mr. Orgorki"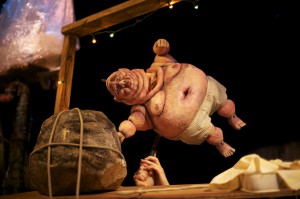 A surreal puppet performance that
unearths life, death, and the memories
that linger in-between….
The story of an afflicted, agonized, ailing, anguished, brokenhearted, dejected, desolate, despairing, despondent…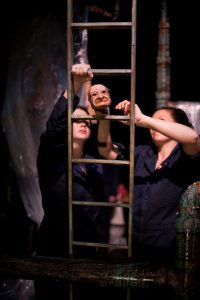 This series of vignettes explores 
the
feeling behind the motivation 
of taking a
risk 
to find love in old age.
The tale of Percival Sweetwater, a kind-hearted curmudgeon who's favorite pastime is fishing.  His life is changed forever when he finds himself in pursuit of a magical fish that was once an old woman.  Their stories collide in an epic adventure on the open sea.
COLLABORATIONS
As an exhausted new mother nurses in the dark of yet another night, her apartment comes to life; possessions possessed with the demons of fear, self-doubt and anxiety, a chorus of objects and body parts. You know, standard parenting stuff.the open sea.
A collaboration with David Lane of New England Puppetry we explore a rocky period in world history when so-called "degenerate" art fueled Nazi machinations through the lens of one brave Parisian curator who sought to fight against what she saw as an abomination against human history.