CLUNK's COMMISSIONS
In addition to creating their own work, the creators at CLUNK Puppet Lab also design and build puppets, props, set pieces, and puppeteer any manner of creature lying around theatres or film/television studios.
Here are a few of the exciting projects that we have worked on:
Young People's Theatre Production of Wizard of Oz: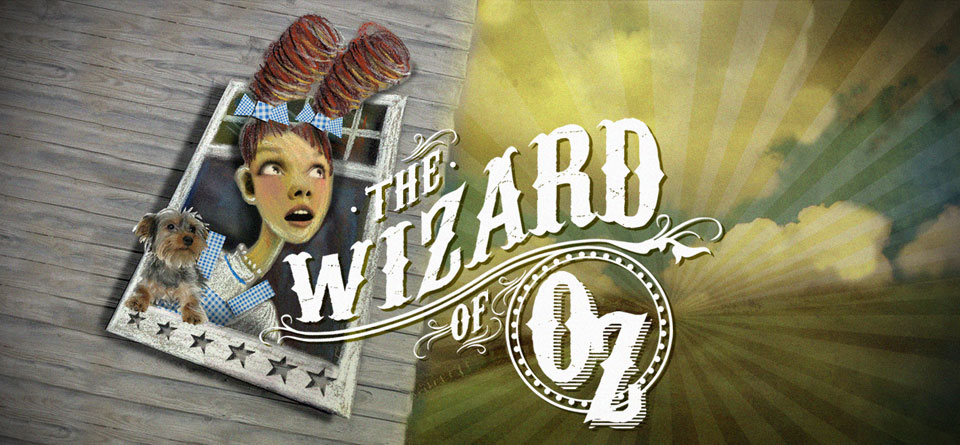 Jonathan and Shawna created the Toto Puppet for this amazing production.  A marionette/rod puppet with an articulated head, freely moving legs and a wagging tail.
In this refreshing new take on the classic family musical, Dorothy once again tries to find her way back home, only to learn she must find 'home' within herself.
Dorothy and her dog Toto are caught in a tornado's path and somehow end up in the land of Oz. There, she meets some memorable friends and foes on her journey to see the Wizard whom everyone says can help her return home and hopefully grant her new friends their wishes for a brain, a heart, and courage.
"Dorothy is a girl in search of her home. In a way, she hasn't realized the people in her life are trying to show that they are her home, that she matters to them and that they're her real – albeit chosen – family" says Allen MacInnis, YPT Artistic Director. "But Dorothy's adventure in Oz is as necessary as it is fantastical, for she has to find "home" for herself. Some things children must be allowed to discover for themselves."
Innovatively arranged by Allen Cole and directed by Joey Tremblay, this delightful new production features everyone's favorite tunes, including Somewhere Over the Rainbow, We're Off to See the Wizard, Follow the Yellow Brick Road – plus a song that never made it into the movie version of the story: The Jitterbug.
---
Young Peoples Theatre: James and the Giant Peach
CLUNK artist Shawna Reiter created five  insect puppets based on designs by Robin Fisher
In Roald Dahl's topsy-turvy world, we find young James trapped in a most unfortunate situation. After losing his parents at a young age, he is placed in an orphanage – only to later be shipped off to live with his nasty and brutish aunts. Saddled with all of the drudgery in the crude and beastly household, James finds an unexpected escape from his servitude when he clambers inside a massive peach that has been growing in the backyard. During his journey in the gigantic piece of fruit, James discovers unexpected friends and eventually makes his own family. The play has some dark moments at the beginning but it will also prompt young people to think about what makes a family and who they can trust. By the end, the audience will delight in the comeuppance of adults who have so egregiously and unfairly mistreated a child.
Words and Music by Benj Pasek and Justin Paul
Book by Timothy Allen McDonald
Based on the book James and the Giant Peach
by Roald Dahl
Directed by Sue Miner
Puppets Designed by Robin Fisher and created by CLUNK Puppet Lab
---
Balloon House Media: Miss Persona Trailer
Created by and Starring Kimberly Persona and in development with Radical Sheep Productions.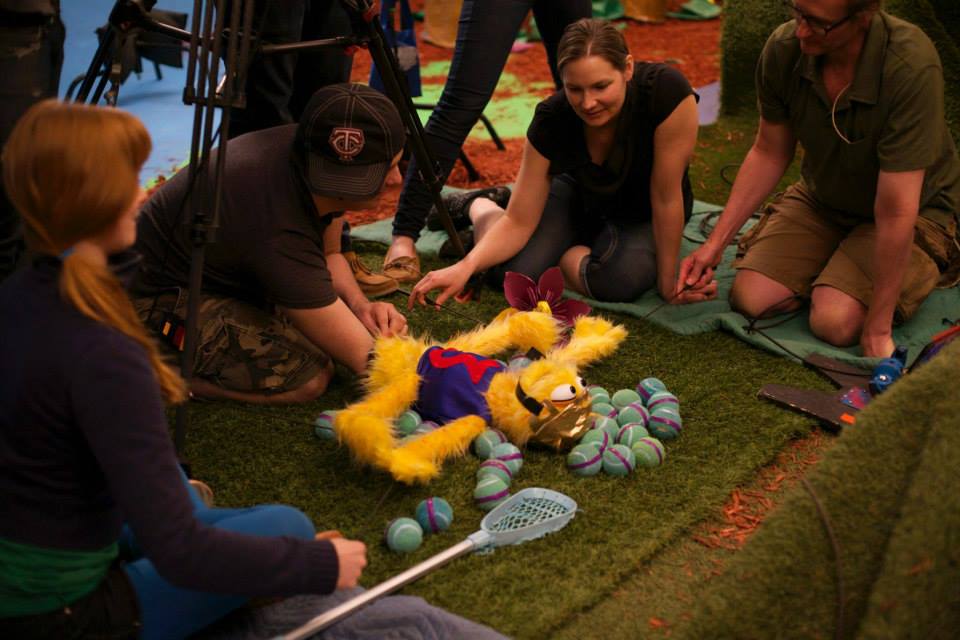 Shawna Reiter was an assistant Puppeteer for Mike Petersen and Jonathan J. Davis was puppet wrangler for this delightful preschool show. Miss Persona is a playful and industrious little lady, so small she sleeps in a jewelry box in the Fix-It-Up Forest. Each day, Miss Persona encounters (or causes) a problem with social/emotional roots within the forest that she must figure out how to solve. After several comical misguided attempts, Miss Persona and her furry friends George and Jam-Jam always eventually learn how to solve the day's problem by doing things like questioning and predicting.
Miss Persona is now in its second season and has been nominated twice for a Daytime Emmy Award for Outstanding Performer in a Children's, Family Viewing
---
Old Trout Puppet Workshop: From Naughty to Nice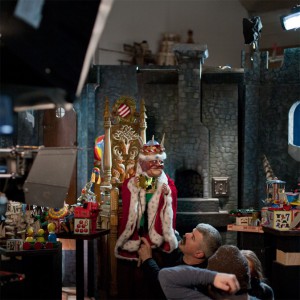 Puppet Engineer and Special Effects Artist Jonathan Davis designed and built set mechanics, lighting effects, and props including fire effects, machines, and wireless motorized turnkeys for Santa's sled. Shawna Reiter carved a reindeer puppet and the king's throne. Kyla Read performed as a puppeteer for a number of Santa's Elves.
From Naughty to Nice is a cautionary tale about how Santa wasn't always the nicest guy in the world. In his youth, Santa lived a life of plenty, in a castle brimming with every toy imaginable. But when he greedily steals a handmade toy, the only toy he doesn't possess, rebellion and revelation brew at the North Pole.
The film is now available for purchase on the NFB Website. Watch a Clip HERE.
---
Ignorance
Ignorance is a puppet documentary about the evolution of happiness – from the thick-blooded hearts of the ancient caves to the ethereal heaven of our light-speed future – it's about where we all went wrong, and how we might find our way once again.
Photo Left: Jason Stang Photography, courtesy of Old Trout Puppet Workshop. Photo Right: Jonathan Davis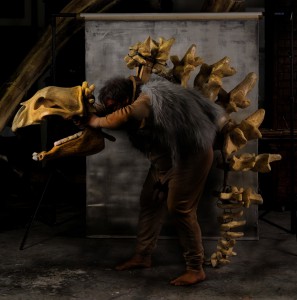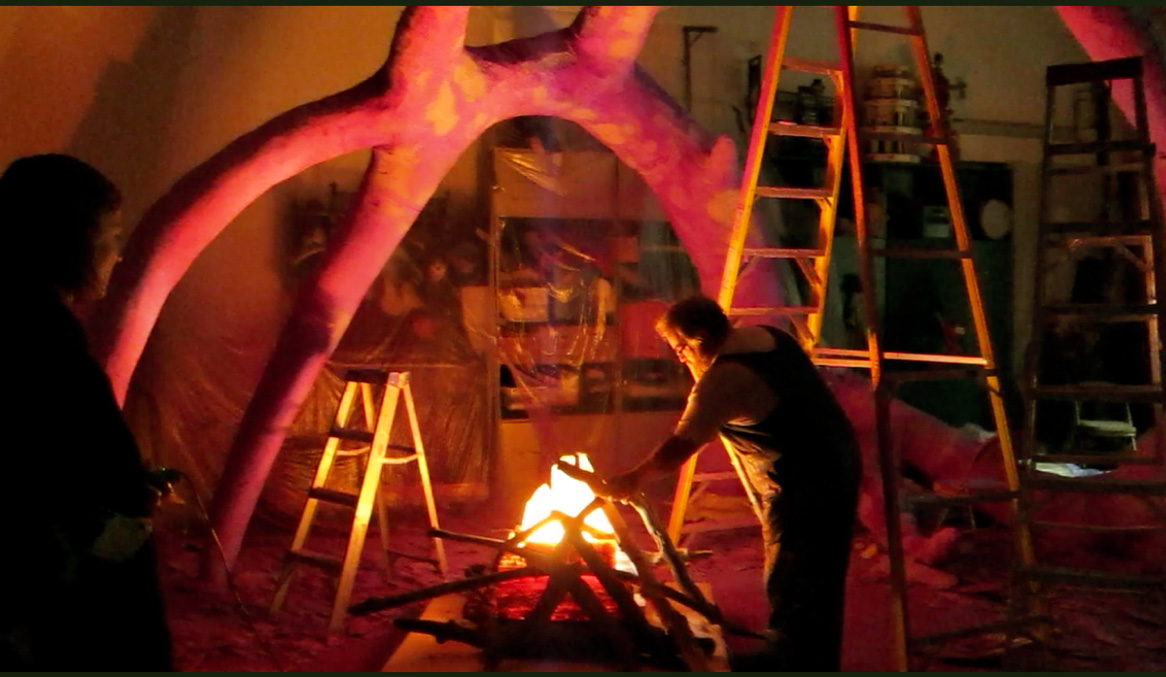 Shawna Reiter and Kyla Read built a large dinosaur puppet/costume. Head design by Peter Balkwill. Puppet Engineer and Special Effects Artist Jonathan Davis designed and built LED circuits and fire effects for a giant puppet bonfire.
---
Forte Musical Theatre: Maria Rasputin Presents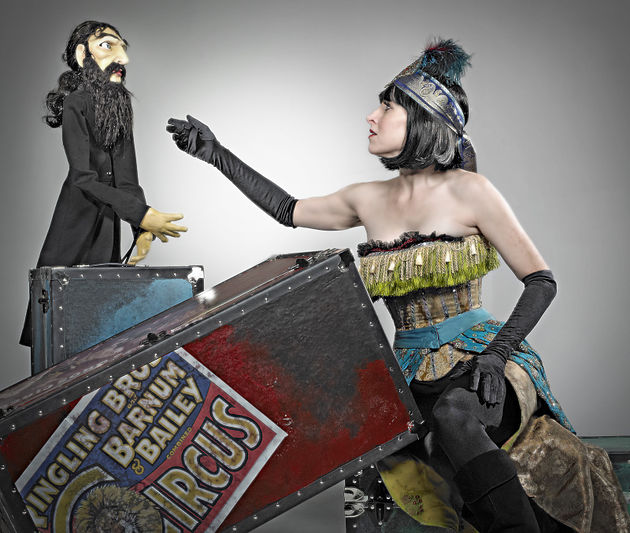 CLUNK designed and constructed seven puppets for this quirky musical. 
At the end of her life, Maria Rasputin puts on one last performance in an attempt to rehabilitate her father's infamous legacy. But will the persistent voice of his assassin ruin her plans?
Staff and Cast:
Written by Joe Slabe
Directed and choreographed by Mark Bellamy
Puppets designed and constructed by Clunk Puppet Lab
Kevin Aichele as Rasputin (Betty Award Winner for "Sweeney Todd")
Allison Lynch as Irina (Betty Award Winner for Forte's production of "Twisted")
Daniel Mallett as Feliks (Betty Award nominee for "Peril in Paris")
Scott Shpeley as Dmitri (Betty Award…
Click HERE for more details.
Photo: Kristian Jones, courtesy of Forte Musical Theatre Guild