WORKSHOP WITH SHAWNA REITER AND GINETTE MOHR.
In this one-day workshop, we will explore how to create trickster characters and then vanish while they play.
DATE: Sunday, March 4, 2018   TIME: 10:00 am to 4:00 pm.  COST (INCLUDES HST)  $125 Regular, or $100 Equity or UNIMA Member/Artist discount.  LOCATION: Puppetmongers Studio. Unit W-23, 388 Carlaw Avenue, Toronto.
ENROLE HERE or contact Puppetmongers: Tel: 416-469-3555,  Email: school@puppetmongers.com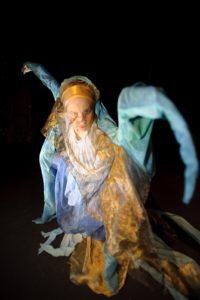 PART ONE: MISCHIEF-MAKING.  Here we call on The Trickster. Jungians suggest that tricksters exist within each of us at the border between conscious and unconscious thought. Appearing in the myths of many cultures, they often act as catalysts to playfully disrupt life and challenge authority. Drawing on character creation techniques from Laban, Viewpoints and clown, we embody our inner-tricksters and ignite new stories.
PART TWO: THE DISAPPEARING ACT.  In part two, we transfer our trickster characters onto our puppets and experiment with how to let them take the focus. As contemporary performance styles often require puppeteers to be visible on stage, it has become increasingly necessary to achieve a puppeteer neutrality. By exploring tension, focus, and kinesthetic awareness, we allow our puppets to take centre stage and provide space for the magic to emerge.
REGISTRATION: Contact Puppetmongers: Tel: 416-469-3555,  Email: school@puppetmongers.com
REQUIREMENTS:  Designed for both the puppet-curious and puppet-experienced, this workshop welcomes individuals from any discipline; i.e., you may be an actor who incorporates puppetry into your training or an artist who loves to build puppets but wants to perform.
Bring water, lunch, a notebook and something to write with. We will provide all other materials, including puppets.