Where Stories Live
with Shawna Reiter
Enroll by Phone (416) 469-3555 or Online at the PuppetMongers' Website !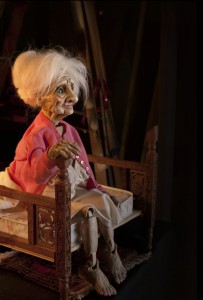 I
f you are a puppeteer, you are well aware that the title comes with an array of job descriptions: building puppets, sets and props; script writing; performing; never ending administrative duties.  It may seem a little overwhelming to think of what a puppeteer takes on.  When you think about it, it all comes from a desire to tell stories though a medium that is full of possibilities.
But where do stories come from? How do we create them?  A more interesting question would be:  How do I get this kernel of an idea to the next level? Wouldn't it be great to have a bag of tricks to draw from when you are feeling stuck, or you have an idea but you don't know exactly what you want to do with it? Drawing techniques from master puppeteers and physical theatre artists, this workshop will help you reach into the depths of your imagination and draw out the story you want to tell.  If you have an idea for a story, or are looking for your next idea, this workshop will give you the tools to create your own bag of tricks.  Be prepared to go deep into your imagination, get physical, use your voice, and play.
— Space is Limited