Application toward the Ontario Arts Council's Theatre Creators' Reserve Program 2016
Recommending Company: Puppetmongers Theatre
SUPPORT MATERIAL
SELECT REVIEWS AND PHOTOS OF PAST PRODUCTIONS  – GINETTE MOHR
FISH FACE
"Writer/performer Ginette Mohr completely enchants us in this imaginative, dark fairy tale about a woman's adventures in a vivid underwater universe. Using her nimble body and every timbre of her voice, the magnetic Mohr morphs from a sly snake to a giant squid to a Cockney-sounding shark… I can't wait to see it make a splash in future incarnations."
NNNNN – Glenn Sumi, NOW Magazine
Winner of the "Cultchivating the Fringe Award" at the Vancouver Fringe Festival.
NOW Magazine Toronto Fringe Critic's Pick for Outstanding New Play, Outstanding Production, Outstanding Performance and Outstanding Design.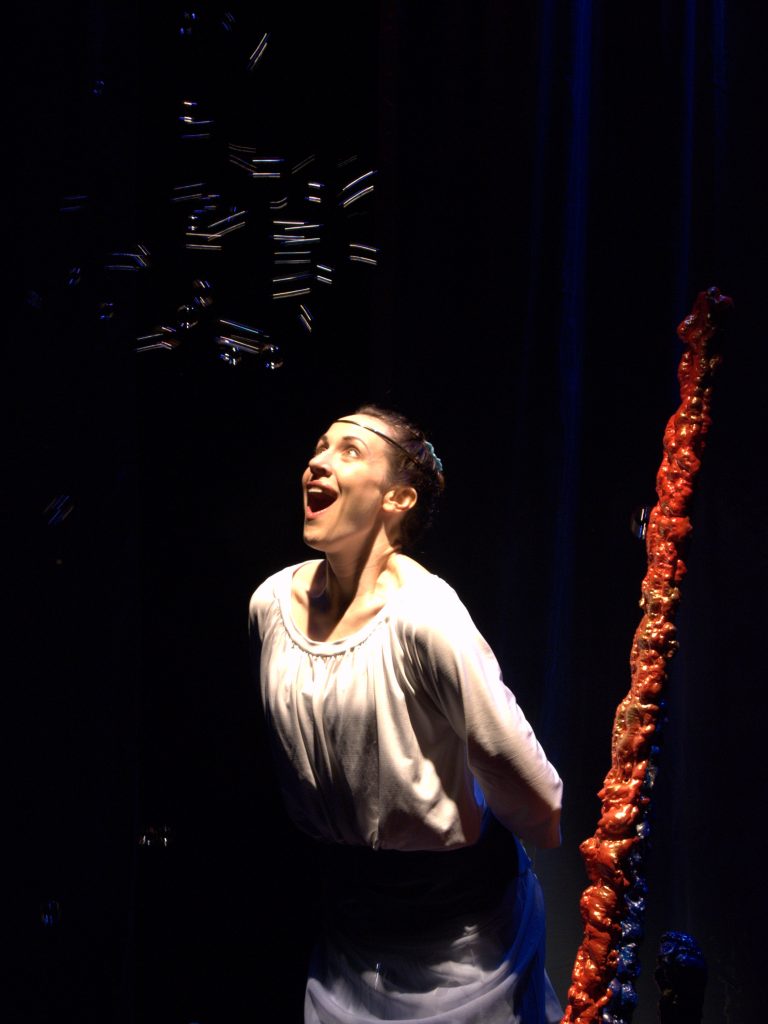 SNACK MUSIC
"At Snack Music, the party starts as soon as you walk in the theatre."
★★★★★ – CBC
"Snack Music is an absolute riot and you wish it just didn't have to end."
★★★★★ – On Stage Ottawa Review
"Bring your best story, smile your biggest smile, and be ready to open your heart to a room full of strangers." – Mike Anderson, Review in Mooney on Theatre
"A delightfully whimsical show." NNNN – Glenn Sumi, NOW Magazine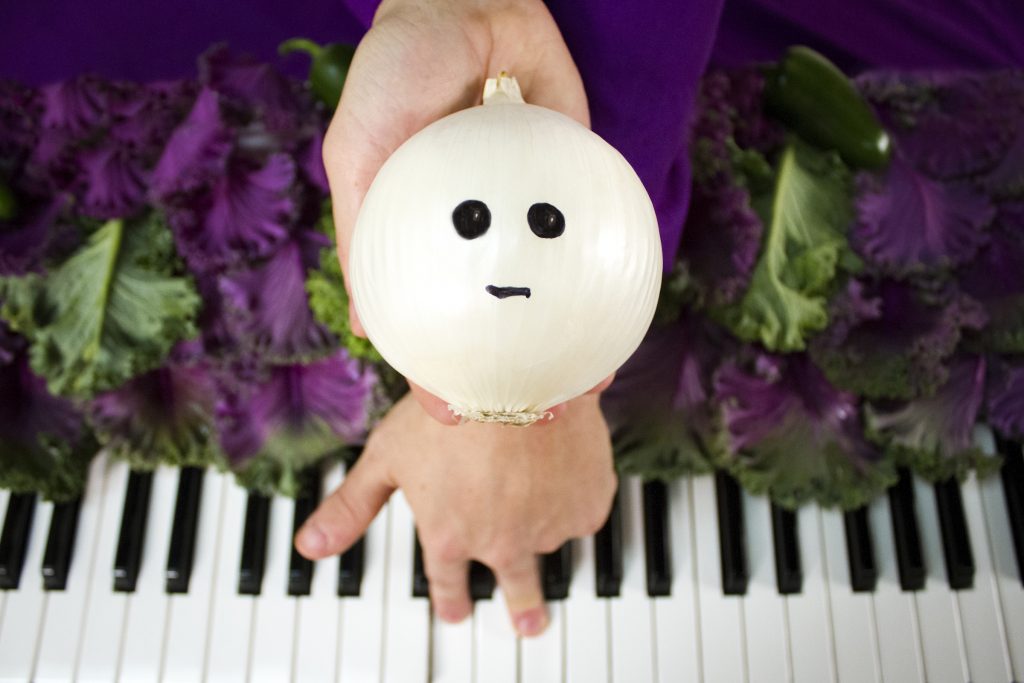 THE TRUTH ABOUT COMETS
"In this magical production, actors Ingrid Hansen and Ginette Mohr (also the playwright) smoothly transform into multiple characters, including three generations of female relatives, in a work that's emotionally rich and theatrically inventive."
NNNN – Jon Kaplan, NOW Magazine
"Fast-paced, funny and deeply moving, this production directed by Kate Fenton is a Fringe gem waiting to be discovered. Mohr and Hansen make a cosmic combo on stage, moving back and forth in time and space with electric energy. Hansen is a particularly gifted character actor, while Mohr gives a subdued but powerful performance as the pregnant (in real life!) daughter. Accented by Jim Plaxton's brilliant lighting design and Thomas Ryder Payne's evocative sound design, this is a show that makes you want to pick up the phone and call your mama."
★★★★ ½ – Lauren Gillett, Theatromania
Winner "Best of Fringe" at the Toronto Fringe Festival
NOW Magazine Toronto Fringe Critic's Pick for Outstanding New Play, Outstanding Production, Outstanding Ensemble and Outstanding Direction
SELECT REVIEWS AND PHOTOS OF PAST PRODUCTIONS – SHAWNA REITER
HOW I BECAME INVISIBLE – CLUNK PUPPET LAB
"The puppets range from the wonderfully expressive head of Saija to the hilariously grotesque figures of the floating Gordon or the fishlike Mrs. A. The coordinated movement of the three puppeteers – Shawna Reiter, Brian Webber and Madlen Sopadzhiyan – is beautiful to watch and is as tightly choreographed as any ballet." – Christopher Hoile, Stage Door at Spring Works Festival, 2014
"The puppets are exquisite. Everything about them- from the bewildered look on their faces to their stooped, fatigued posture, to their hand gestures, to their costumes – seems lifelike and heartbreaking." – Stephen Hunt, Calgary Herald
THE WIZARD OF OZ – YOUNG PEOPLE'S THEATRE – DESIGN AND CREATION OF TOTO PUPPET
"Puppets are used brilliantly for The Wizard and magically for Toto who transforms into Nathan Carroll who is a fuzzball wise beyond his years." – Drew Rowsome A writer, musician, editor and pop culture critic, 2016
JAMES AND THE GIANT PEACH – YOUNG PEOPLE'S THEATRE – CREATION OF INSECT PUPPETS (Creepy-Crawlies)
"YPT's production of James and the Giant Peach, a musical based on the Roald Dahl book and directed by Sue Miner, has two great things going for it. One is the ensemble performance of the outsize insects who accompany the title character on his trip in the flying, floating title fruit. The other is the visual identity bestowed on the peach, and the creepy-crawlies, and just about everything else in the show by its design team." – Robert Cushman, National Post, 2014

MARIA RASPUTIN PRESENTS – FORTE MUSICAL THEATRE GUILD
"Sailing…a number that is not only beautifully sung but wonderfully enhanced by an extremely touching and effective use of puppetry." – Jessica Goldman, Applause Meter, Your Review Guide to Houston's Theater Scene
"Maria Rasputin Presents" was nominated for Outstanding New Play and Outstanding Production of a Musical at the 2013 Betty Mitchell Awards and Joe Slabe won the 2013 Betty for Outstanding Musical Direction.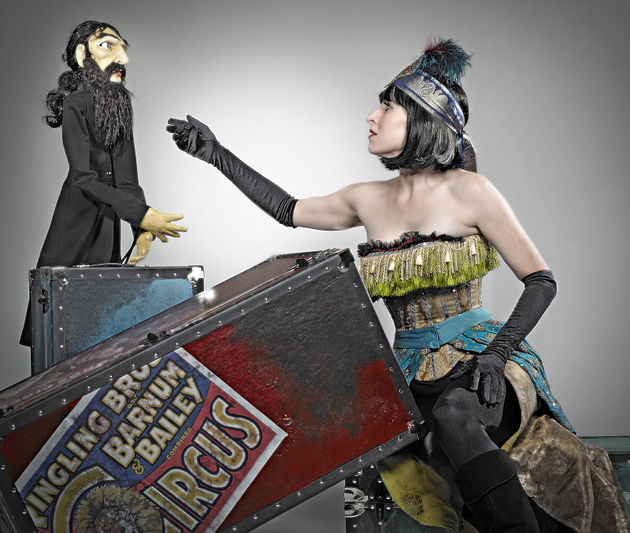 INSPIRATION – PHOTOS AND RECIPES
GINETTE MOHR
SHAWNA REITER