UNIMA stands for UNION INTERNATIONALE DE LA MARIONNETTE. UNIMA exists since 1929 and national centers, like UNIMA-CANADA are alive in over 70 countries. Well alive in Quebec since 1986, UNIMA-CANADA is present for its members across Canada since April 2010.
In 2014, UNIMA-CANADA represents 168 membres that work and live in 9 Canadian provinces, regrouped around 3 sections: QUÉBEC, ONTARIO & ATLANTIC.
UNIMA-CANADA membership is open to all and unites its members across the country. Members are puppeteers, artists, artisans, programmers, puppet aficionados… everyone who has at heart puppetry arts development. Membership is available through sections. We invite you do visit the SECTIONS page for all information on joining UNIMA-CANADA.
WHY BECOME A MEMBER OF UNIMA-CANADA
When you join UNIMA-CANADA, you give a stronger voice to a group of fellow puppeteers working for the development of puppetry arts in Canada. You are part of a community that shares your work, your tours. Every month, a newsletter is sent to members and programmers around the country. You will discover the work of your peers, and the reputation of puppetry arts will continue to grow in Canada.
To become a member of UNIMA-Canada Section Ontario visit this LINK

Toronto Puppetry Collective came into being in 2012 to create a performance series dedicated to the puppetry arts called Puppet Allsorts. The mandate of the collective is to provide an opportunity for audiences to see diverse forms of puppetry on a regular basis and to foster community for those many professional performers and puppet builders currently working in isolation in Ontario.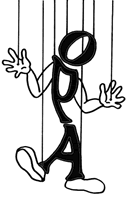 The Ontario Puppetry Association is a non-profit corporation which supports the work of puppeteers of all styles and at all levels of expertise.
If you are a puppeteer looking to network with like-minded artists, membership in The Ontario Puppetry Association offers you a centralized hub to meet, publicize and share with other puppet artists in Ontario.
For the puppet-loving audience member, the OPA offers a comprehensive listing of shows, workshops, festivals, stores and for-hire puppeteers in Ontario. Check out our events page and then come out and see a puppet show!