The Chronicles of Rose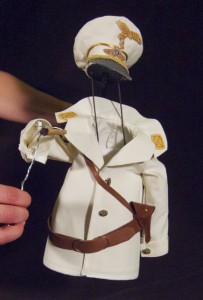 A collaboration with David Lane of New England Puppetry, Chronicles of Rose is about the fretful time in Paris just before, and during the Nazi occupation of France during WWII. France is on the brink of invasion and we find Rose Valland, the curator for the Jeu du Paume Museum, torn between escaping Paris with handsome Jewish art dealer Paul Rosenberg, or staying to help the French Resistance. The Louvre is being evacuated as priceless sculptures and paintings are loaded onto trucks on their way to chateaux in the south in the hopes that they will not be discovered by the Nazis. But before Rose can make a choice, she's met by an unexpected visitor, whose presence in Paris changes everything.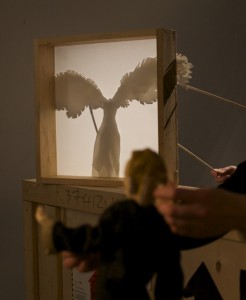 As a completely new creation, the Chronicles of Rose is literally built from the ground up; from the costumes, and puppet heads, to the set pieces and miniature frames, everything has been artfully designed and built by the CoR company. Incorporating the use of a combination of table-top staging, moving sculpture, shadow puppetry, and slide projections, audiences follow Rose as she desperately tries to undermine Nazi plundering by passing secret messages to the underground while concealing her true identity as an operative. Tanks and bombers, the ominous forces of war portray a stark reality as archival radio footage sets the mood.